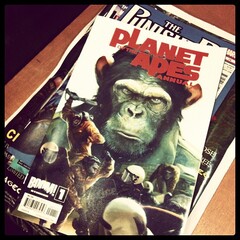 Greetings, Funkers! I know I say it time and time again, but if you missed this week's Science Fiction Edition of Tuesday Funk, you missed a hell of a good show.
First Gregory A. Wilson kicked things off in grand style with a tale that revealed the humanity at the heart of a mechanical man. Dapper Rajan Khanna then took us for some mind-bending and strangely costly travel through the secret doors that lurk in places we'd rather not look. And Adam Rakunas summoned us to the principal's office for a hilariously profane dressing-down that could only be forestalled by internet porn.
After our intermission break for beer at the bar, co-host William Shunn, in his latest Poem By Bill, brought the house down with his rhyming, rapping tale of a "Grand Motherfucker." Rae Carson followed that up with aplomb, bringing us the story of a girl who awakens after five days into a world that has changed in vivid and terrifying ways. And Daryl Gregory brought us a beautiful story in which the persistence of vision is made heartbreakingly literal.
But if you missed out, don't despair. We'll be bringing you plenty of video from the evening over the next few weeks, and we'll be back on Friday, September 14th, with our Chicago Writers Conference Special Edition, featuring M. Salahuddin Khan, Patricia Skalka, Rachel Wilson, William Shunn, and Mary Robinette Kowal. Be sure to join us!