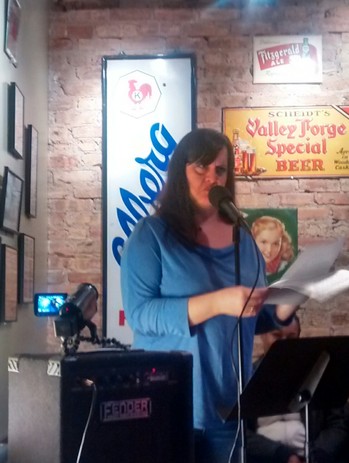 2017 is a mystery, but at least 2016 is history, amirite? Tuesday Funk #101 ushered in the new year with style, PER USUAL.
Kelly Swails
started us off with the first chapter of her YA novel,
This May Go on Your Permanent Record
, about a school for world domination, followed by a series of lyrical and moving poems by another Tuesday Funk veteran,
Cameron McGill
. Co-host Andrew Huff promised, in haiku form, to avoid 2017 haikus about T-R-U-M-P, and then
Amy Sumpter
had us roaring with her story about a rogue opossum and other brushes with the strangeness of adulthood.
Sal expertly refilled our boozes, and then we sat back down.
Co-host Eden Robins read a microessay about losing and then finding her voice, and then Dmitry Samarov shared an excerpt from his memoir about art-making and influential teachers. Finally, James Gordon finished off the night with a story about a Labor Day party gone horribly, horribly wrong.
And we'll be right back here next month for Episode #102 of Tuesday Funk on Tuesday, February 7th, featuring Deborah Siegel, Leonard Zawadski, Jenn Sodini, Molly Dumbleton, and Keidra Chaney!