Storytelling
At our June 4th edition of Tuesday Funk, G.P.A. (Greatest Poet Alive) shared some of his secrets for wooing a sports fan. We only captured part of his performance due to battery issues, but what we did get sounded a...
read
At the May 7th edition of Tuesday Funk, returning reader Suzanne Clores related the squirm-inducing tale of a car ride she took with a Brooklyn mobster, and it sounded a little like this... And if you enjoyed that, please join...
read
As we count down to our August reading, we're bringing you some classic performances from Tuesday Funks past. In this clip from May, Paul McComas channels his character Aldo Vesper to bring us a real big fish story. (Or is...
read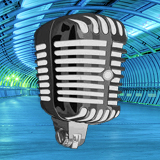 About Us
Tuesday Funk is an eclectic Chicago reading series, hosted by Andrew Huff and Eden Robins, showcasing a monthly mix of fiction, poetry, essays and performance. Join us next on Tuesday, October 6, 7:30 p.m. live on YouTube. Admission is free.