Reading #121
Tuesday Funk cohost Andrew Huff had a headache that was going on two days when we got together on Oct. 2, and it made its presence known in his topical haiku. What is there to do when your head aches...
read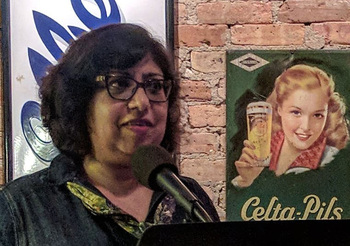 Autumn began its blustery descent on Chicago in October, but we were warm and cozy in the upstairs lounge at Hopleaf for Tuesday Funk on Oct. 6. The evening started with a selection of poems by Dipika Mukherjee. Next, Henri...
read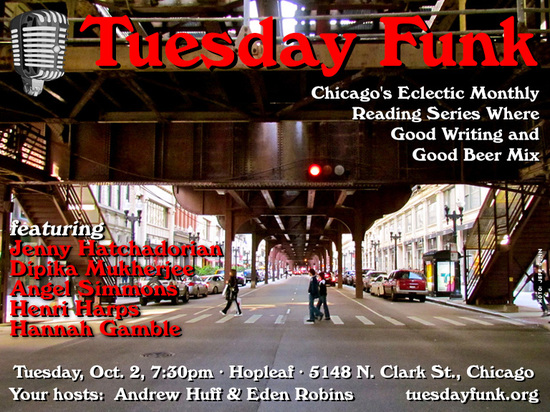 Ring in October with this stellar lineup: Angel Simmons, Dipika Mukherjee, Hannah Gamble, Henri Harps, and Jenny Hatchadorian! Co-hosts Andrew Huff and Eden Robins will also be there, probably making bad puns. Our readings take place at Hopleaf Bar, 5148...
read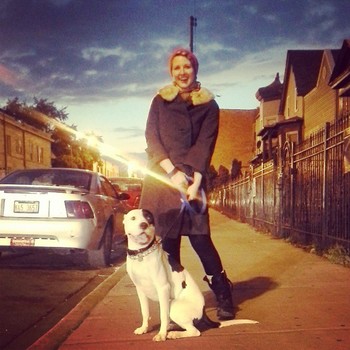 Hannah Gamble is a poet, essayist, editor, performer,and educator. Her first book, Your Invitation to a Modest Breakfast, won the National Poetry Series in 2011. In 2014 she received a Ruth Lilly/Dorothy Sargent Rosenberg fellowship from The Poetry Foundation. You...
read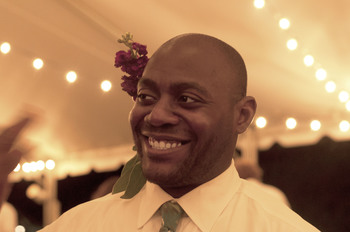 Henri Harps is a guitarist, writer, and jazz fanatic born in DC and bred in New York City. He is based now in Chicago along with his wife, baby on the way, large geriatric dog and continually expanding array of...
read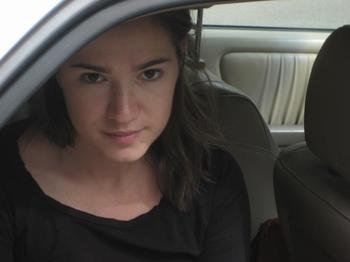 Jenny Hatchadorian was an award-winning filmmaker and an academic before turning to comedic essays. Her work can be found at Story Club Magazine and on the podcast Everything Good. She's read essays at The Line Break Series, Story Club Chicago,...
read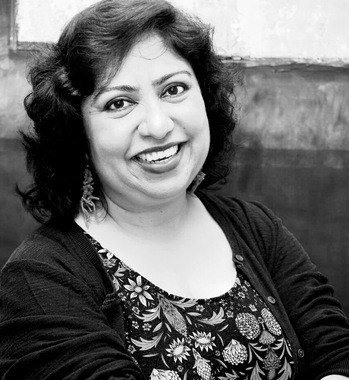 Dipika Mukherjee is an internationally touring writer, sociolinguist, and global nomad. She is the author of Shambala Junction (Aurora Metro, 2016), which won the UK Virginia Prize for Fiction, and Ode to Broken Things (Repeater, 2016), which was longlisted for...
read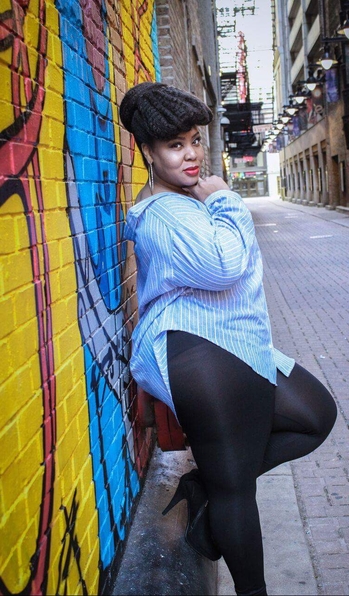 Angel Simmons is a multitalented artist from Chicago's Southside. She is an actress, speaker, coach, print and runway model, storyteller, author and blogger of "Love's Great Design", president of The Message, Inc., and the current "Ultimate Ms. Worldwide USA Ambassador"...
read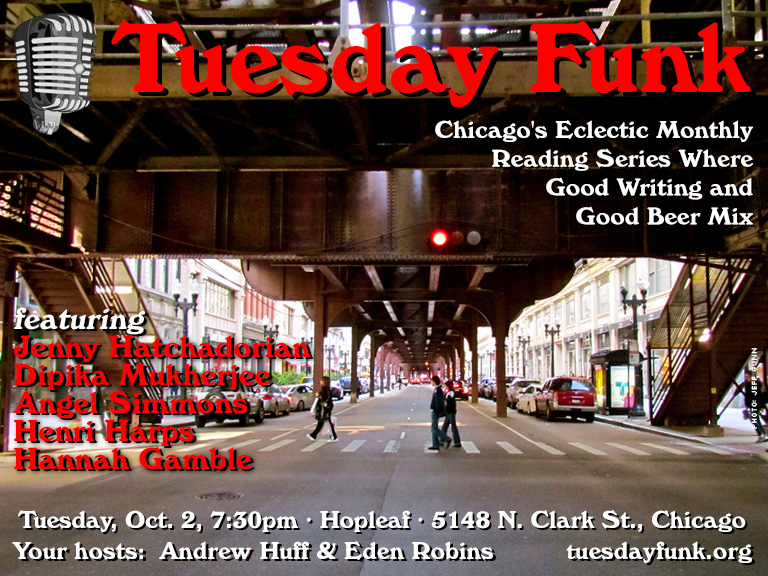 You feel that? The weather is changing and Tuesday Funk is hear to help you usher in decorative gourd season! Join us in the upstairs lounge at Hopleaf on Tuesday, Oct. 2 for readings by Jenny Hatchadorian, Henri Harps, Dipika...
read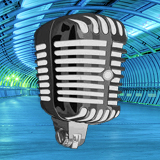 About Us
Tuesday Funk is an eclectic monthly reading series showcasing a mix of fiction, poetry and essays. We are currently on hiatus.