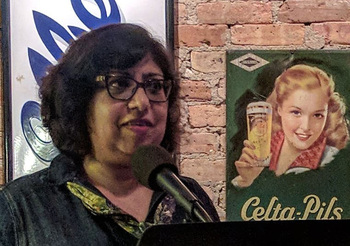 Autumn began its blustery descent on Chicago in October, but we were warm and cozy in the upstairs lounge at
Hopleaf
for Tuesday Funk on Oct. 6. The evening started with a selection of poems by
Dipika Mukherjee
. Next,
Henri Harps
shared a portion of a short story about a music teacher and a changing neighborhood in Brooklyn. Then
Jenny Hatchadorian
read a funny story about a girl dealing with delayed puberty while at camp.
We took a break to refill our glasses, and then cohost Andrew Huff read a couple of his topical haiku to get us back in the mood. Hannah Gamble then shared a couple of poems and a short essay, and Angel Simmons closed out the show with a mental walking tour of her Englewood neighborhood.
Join us on Tuesday, November 6 for the next edition of Tuesday Funk, featuring Lily Be, Chelsea Fiddyment, Alec Nevala-Lee, Tom Haley and Britt Julious. Hope to see you there!