Reading # 44
At our April Tuesday Funk reading, Nebula Award-winning author Richard Chwedyk shared with us the prologue of a novel written by a dinosaur who's a character in his ... um, hey, let's just let Rich explain! And if you enjoyed...
read
At our April Tuesday Funk reading, Mary Anne Mohanraj shared her (NSFW) short story "The Night Air," and it went a little something like this... And if you enjoyed that, please join us on Tuesday, June 5th, 2012 for more...
read
Our next event will take place
Tuesday, May 1, 2012,
and will include readings from
Chris Mendius, B.C. Bell, Susanna Lang, Julie Rosenthal,
and
Tom Underberg
.
read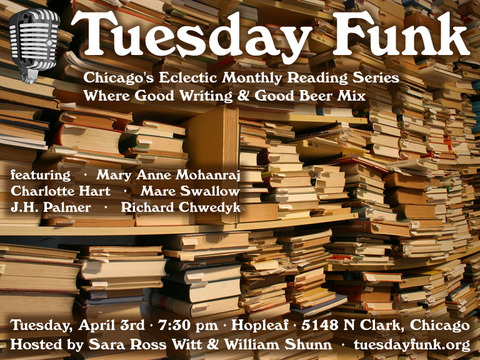 Put those books back on the shelf and get on down to Hopleaf tonight for the 44th magnum opus from your friends at Tuesday Funk! Our vaunted lineup tonight includes Richard Chwedyk, Mary Anne Mohanraj, Mare Swallow, Charlotte Hart, and...
read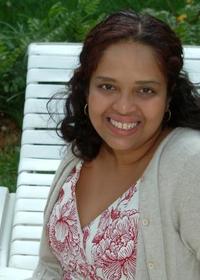 Mary Anne Mohanraj is author of Bodies in Motion (HarperCollins) and nine other titles. Bodies in Motion was a finalist for the Asian American Book Awards, a USA Today Notable Book, and has been translated into six languages. Previous titles...
read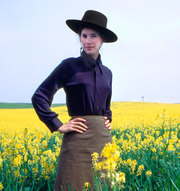 Charlotte Hart lives in Evanston, Illinois. Her poetry has been published in Journals such as Apparatus Magazine, Barnwood International Poetry Magazine, The Aurorean, Thema, and Dot Dot Dash. She has two books of poetry: The Pegasus Ring (2008) and a...
read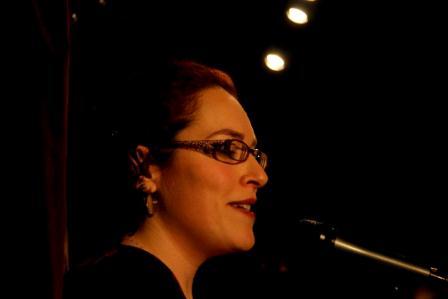 J.H. Palmer is a writer and storyteller, and is in possession of a range of superpowers which include the ability to use public toilets and tame feral cats (but not at the same time.) She has performed at Story Club,...
read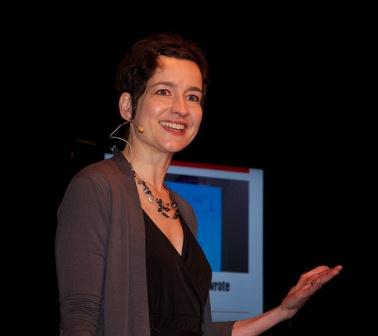 Mare Swallow is the host of the Chicago Publishes Podcast and the founder of the upcoming Chicago Writers Conference, this September in Chicago. She is also a public speaking coach who writes whenever she can. Join Tuesday Funk April 3...
read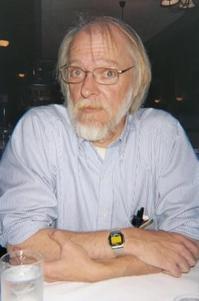 Richard Chwedyk won a Nebula Award for his novella, "Bronte's Egg" in 2003. He has also been nominated for the Hugo, the Rhysling, and shortlisted for the Theodore Sturgeon Award. His fiction has appeared in the anthologies Nebula Awards Showcase...
read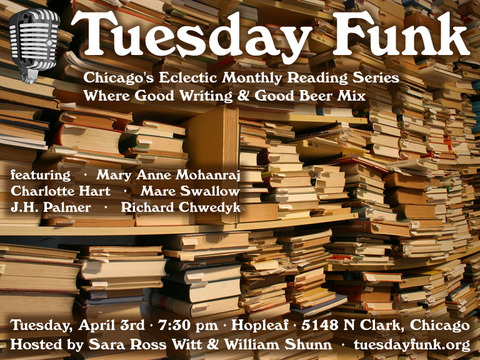 Our next event will take place
Tuesday, April 3, 2012,
and will include readings from
Mary Anne Mohanraj, J.H. Palmer, Charlotte Hart, Mare Swallow,
and
Richard Chwedyk
.
read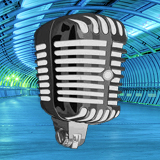 About Us
Tuesday Funk is an eclectic Chicago reading series, hosted by Andrew Huff and Eden Robins, showcasing a monthly mix of fiction, poetry, essays and performance. Join us next on Tuesday, October 6, 7:30 p.m. live on YouTube. Admission is free.