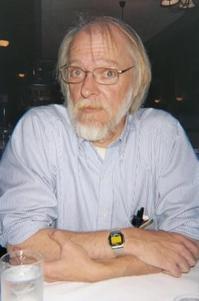 Richard Chwedyk
won a Nebula Award for his novella, "Bronte's Egg" in 2003. He has also been nominated for the Hugo, the Rhysling, and shortlisted for the Theodore Sturgeon Award.
His fiction has appeared in the anthologies Nebula Awards Showcase 2004, Year's Best SF 7, Tales From the Red Lion, Visual Journeys, Hell in the Heartland and Cthulhu and the Coeds, or: Kids and Squids; and in the magazines Fantasy and Science Fiction, Amazing Stories and Space and Time. His poetry has appeared in Year's Best SF 8, Strange Horizons, Tales of the Unanticipated and most recently in the tribute anthology 80! Memories & Reflections on Ursula K. Le Guin.
A lifelong Chicagoan, Chwedyk received his undergraduate degree from Columbia College Chicago and an M.A. in in English from Northwestern University. He currently teaches the regular and advanced Science Fiction Writing Workshop courses for Columbia College Chicago. He has led or moderated numerous writing workshops since 1991, taught Freshman Rhetoric/Composition and Short Story Writing for several area community colleges. He is currently working on a collection of stories. Rumors of a novel are getting louder.
Join Tuesday Funk April 3 at 7:30 p.m. at Hopleaf's upstairs bar to hear Richard read!