Reading # 66
Amelia Beamer's story about sexy zombie escapades brought the house down at Tuesday Funk #66, on Feb. 4 of this year. If that sounded like your kind of party, the next edition of Tuesday Funk is this Tuesday, Aug. 5,...
read
Co-host Andrew Huff talked tech in his patented topical haiku at the February 7 edition of Tuesday Funk. Snow, snow, snow, snow, snow. Snow, snow, snow, snow, snow, snow, snow. Sweet lord, no more snow. Remember dial-up? Ten weird seconds...
read
As co-host Andrew Huff said in this poignant haiku: Snow, snow, snow, snow, snow, Snow, snow, snow, snow, snow, snow, snow. Sweet lord, no more snow. Surprise! It snowed. But that didn't keep our intrepid literature and beer lovers away...
read
Don't forget--tonight is Tuesday Funk's 66th episode, featuring Mare Swallow, Cameron McGill, Tom Underberg, Chuck Sudo, and Amelia Beamer! We're like the birds returning to the trees... the mucky slush flooding the streets... the first hint of spring thaw bringing...
read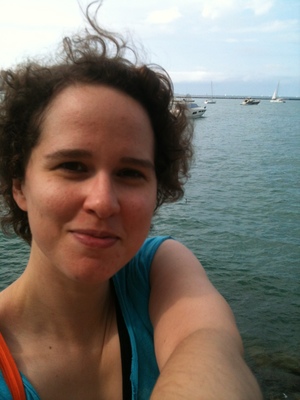 Amelia Beamer writes science fiction, fantasy, and horror novels & stories and has spent the past few years in the UK, Australia, Japan, Germany, Ireland, and Iceland. She is the author of The Loving Dead, the number two zombie novel...
read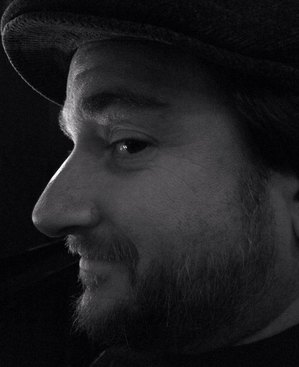 Born and raised on Chicago's Northwest side, Chuck Sudo has called Bridgeport home for nearly 15 years and has written for the popular local website Chicagoist for nearly nine years--the last three-plus as editor-in-chief. His writing has appeared in the...
read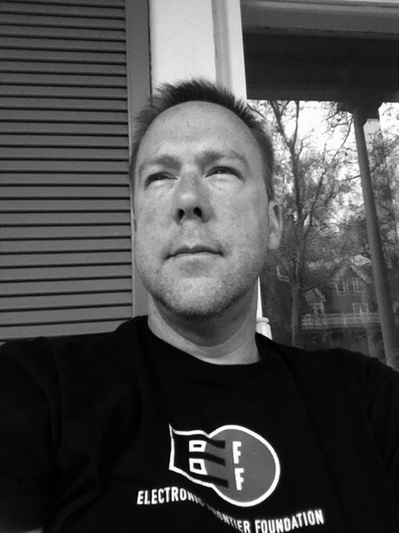 Tom Underberg writes speculative fiction and raises children. He can often be found photographing bricks, sidewalks and manhole covers for a blog on overlooked infrastructure. Before Tom's children were born he worked at less demanding jobs in software and consulting....
read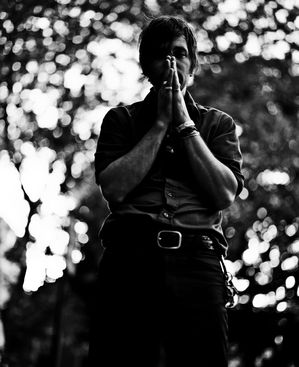 Cameron McGill is a Chicago-based singer and songwriter. He recently released his sixth album, Gallows Etiquette. The album was funded via a PledgeMusic.com campaign; a percentage of funds raised will support Rock For Kids, a charity which provides instruments and...
read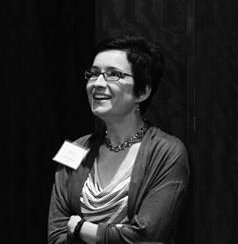 Mare Swallow is the founder and Executive Director of the Chicago Writers Conference, an organization that exists to connect writers to publishing professionals...and each other! CWC will feature a Self-Publishing Workshop in March. She is also a professional speaker and...
read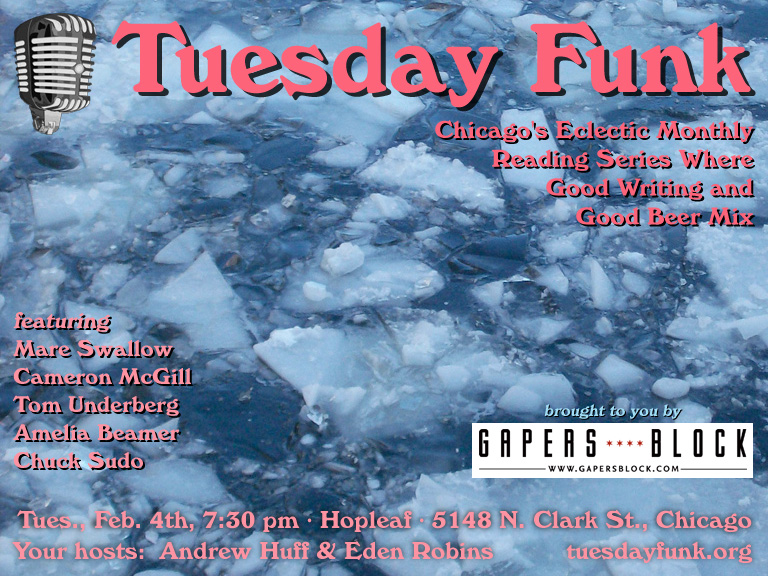 Warm yourself by the fire of literary passion at the February edition of Tuesday Funk. The roster will feature Mare Swallow, Cameron McGill, Tom Underberg, Amelia Beamer and Chuck Sudo. We'll also have a round of Haiku by Andrew, a...
read