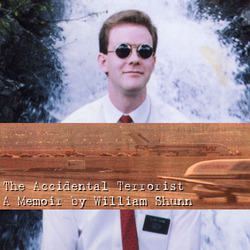 Hi, generous Tuesday Funk fans! You may not be familiar with the name
Terri Windling
, but she is a
major figure
in the fantasy publishing world, as an author, illustrator, and especially editor. Health and legal issues have drained the Terri and her family of all financial resources, so the SF/fantasy community is doing what the SF/fantasy community does—banding together to help.
And they're helping by raising money with an online auction called Magick 4 Terri. Literally dozens of publishing professionals—people like Jane Yolen, Cory Doctorow, Holly Black, Ellen Kushner, Charles Vess, Barry Goldblatt—have contributed rare goods and services to be auctioned off to the highest bidder.
Your humble Tuesday Funk co-host has a slate of items up for auction, too—three signed, privately printed copies of my not-yet-published memoir The Accidental Terrorist. You might have heard me read from it on several occasions at past Funk episodes. The manuscript is making the rounds of editors' desks as we speak, but there's a way you, generous Funker, can lay hands on a copy well before anyone else.
The bidding starts at $100. The three highest bidders walk away with the books, and will also be mentioned the acknowledgment when a commercial edition finally comes out. The bidding has already begun, so what are you waiting for?
Oh, one more thing. The auction closes at 5:00 pm PST on Thursday, December 15th. That gives you just a little over 24 hours to get your bids in. Help Terri Windling, and don't delay. Bid now!
(Click here for more information about the bidding process.)
---
If you're curious to know more about The Accidental Terrorist, I did an interview about it on Air America back in 2009, when I was serializing an earlier draft as a weekly podcast. Listen to both segments of the interview below:
Doing Time with Ron Kuby, Part 1 (10:35)

Doing Time with Ron Kuby, Part 2 (07:49)