Reading # 88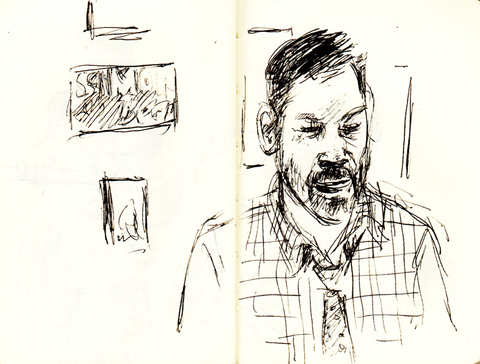 At our December show, artist, writer and past Tuesday Funk guest Dmitry Samarov attended and gave us a gift -- sketches of all the readers -- Clayton Smith, Gint Aras, Britt Julious, Bill Savage and James Gordon.
read
The Dec. 8 edition of Tuesday Funk saw a collection of topical haiku from co-host Andrew Huff that touched a nerve. Turkey's sleeping potion, 5-hydroxy tryptophan, is five syllables. Fourten months before we learned what really happened to Laquan McDonald....
read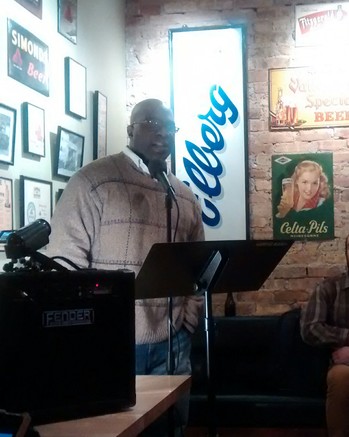 Holy standing room only, Batman! This was a popular show... and for good reason! Clayton Smith started us off strong with an excerpt from his new novel Anomaly Flats, about adventure and fantastical... anomalies in rural Missouri. Next up was...
read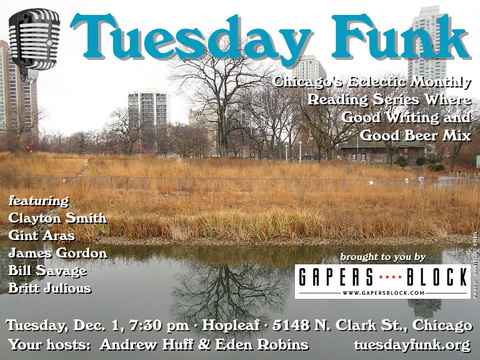 It's the last Tuesday Funk of 2015! Don't miss Clayton Smith, Gint Aras, James Gordon, Bill Savage, and Britt Julious! And, of course, your humble co-hosts Andrew Huff and Eden Robins. Our readings take place at Hopleaf Bar, 5148 N....
read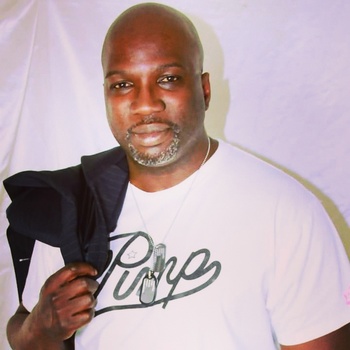 James Gordon better known as G.P.A. (Greatest Poet Alive) is an international award winning author and poet and was recently named UBAWA's Children's Author of the Year. He can be seen on episodes of Chicago Fire, Chicago PD, Chicago Med,...
read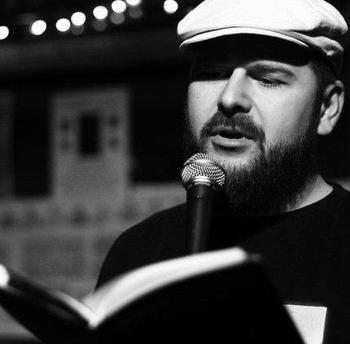 Gint Aras is the author of the cross-generational family epic, The Fugue, set for release in December from The Chicago Center for Literature and Photography. His writing has appeared in The St. Petersburg Review, Quarterly West, Curbside Splendor, Antique Children,...
read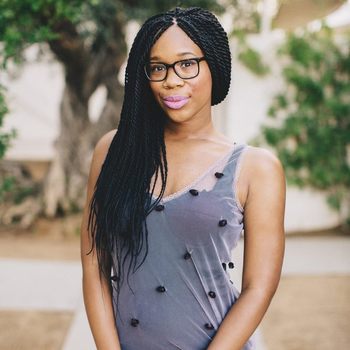 Britt Julious is a journalist, critic and essayist. She currently serves as the local music columnist for the Chicago Tribune and contributes regularly to Vice magazine, The Guardian, Pitchfork, and MTV News where she is interested in writing about the...
read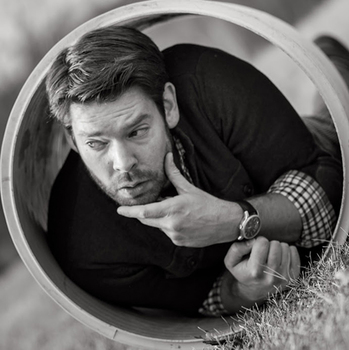 Clayton Smith is a writer of speculative fiction whose work includes the play Death and McCootie and the novels Apocalypticon, Anomaly Flats, and Mabel Gray and the Wizard Who Swallowed the Sun. Some of his nonsense has been featured on...
read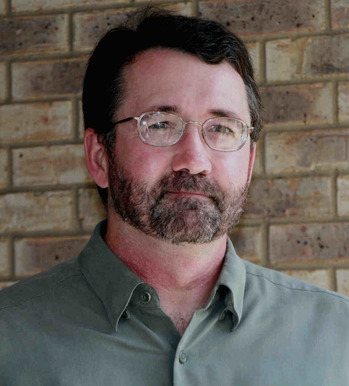 Bill Savage teaches Chicago literature, film, history, and culture at Northwestern University and the Newberry Library of Chicago. He regularly writes book reviews for the Chicago Tribune, op-ed essays for Crain's Chicago Business, various random things for other publications with...
read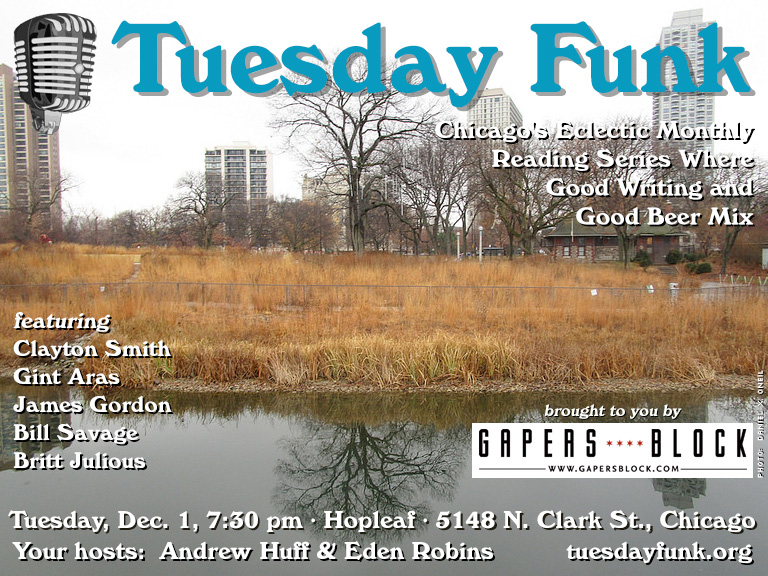 The chill is in the air and the holiday season is well under way, but make sure to leave room for you favorite! eclectic monthly reading series! We are back in the upstairs lounge at Hopleaf, 5148 N. Clark St.,...
read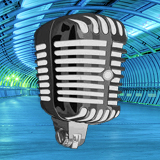 About Us
Tuesday Funk is an eclectic monthly reading series showcasing a mix of fiction, poetry and essays. We are currently on hiatus.