June 2014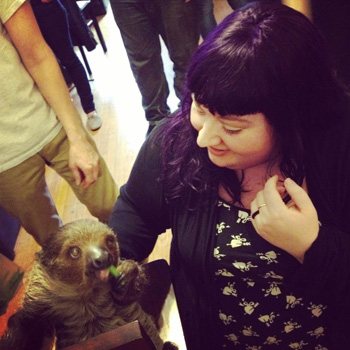 Lisa White is a born and raised Midwestern girl who's had numerous adventures and escapades writing. After moving here to attend college she fell in love with Chicago and despite a brief stint in New York returned to the city...
read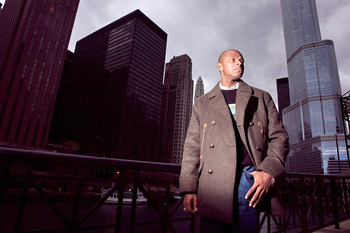 Norman Doucet hails from the den of the southern rebellion, Charleston, South Carolina. Influenced by the duality that exists there, he made some interesting decisions, starting with attending the college--founded after a slave revolt--which also has the dubious distinction of...
read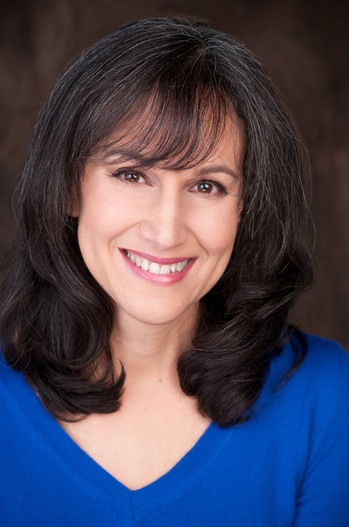 Sheri Reda is a writer, editor, and Life-Cycle Celebrant who performs weddings, baby blessings, milestone ceremonies, and memorials for all comers. She has shared poems and stories and other ephemera at Czar Bar, Bop Shop, Soup and Bread, All She...
read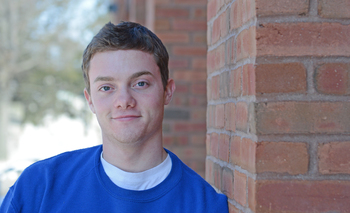 Evan Okun/E. Oks is employed by Circles & Ciphers, a Chicago-based restorative justice group that uses hiphop to engage young men who are court- and gang- involved in critical discourse. He recently graduated from Wesleyan University (CT), where he majored...
read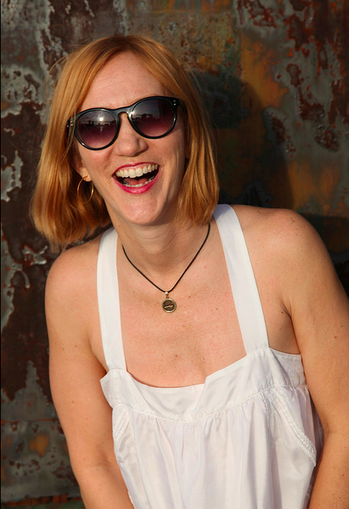 Lisa Kirchner was once simultaneously the dating columnist for an alternative newsweekly, bridal editor for a society rag and the religion reporter for a gay and lesbian newspaper. Her new book, Hello American Lady Creature, is a darkly humorous memoir...
read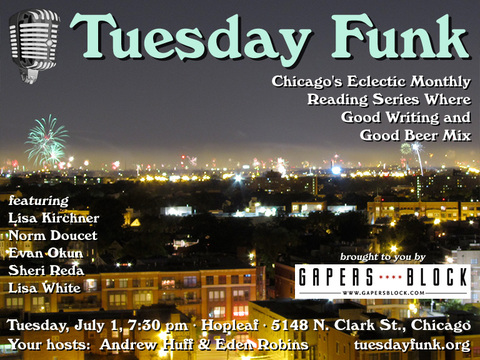 Three days before Independence Day, Tuesday Funk will celebrate its independence from genre! The 71st edition of Chicago's eclectic monthly reading series will feature Norman Doucet, Lisa White, Lisa Kirchner, Evan Okun and Sheri Reda. Andrew Huff and Eden Robins...
read
As summer began, co-host Andrew Huff read another set of topical haiku at the June 3 edition of Tuesday Funk. Maya Angelou knew why the caged bird sings and told us about it. May she rest in peace, and may...
read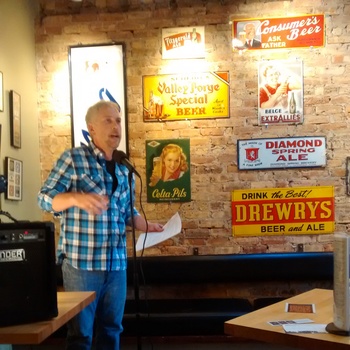 Holy moly, folks. I certainly hope you didn't miss this month's Tuesday Funk, because if you did... you are a CHUMP. We started off fast and furious with Ted Goeglein's true story of robbing a strip joint and then, remorsefully,...
read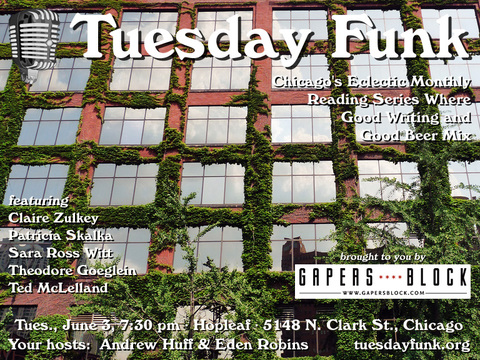 Hoo boy, have we got a treat for you. I'll give you three hints - it's tonight (TUESDAY), it'll be FUNKy, and ... well, that's probably enough hints. It's Tuesday Funk #70, y'all! With special guest stars Claire Zulkey, Patricia...
read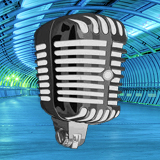 About Us
Tuesday Funk is an eclectic monthly reading series showcasing a mix of fiction, poetry and essays. We are currently on hiatus.