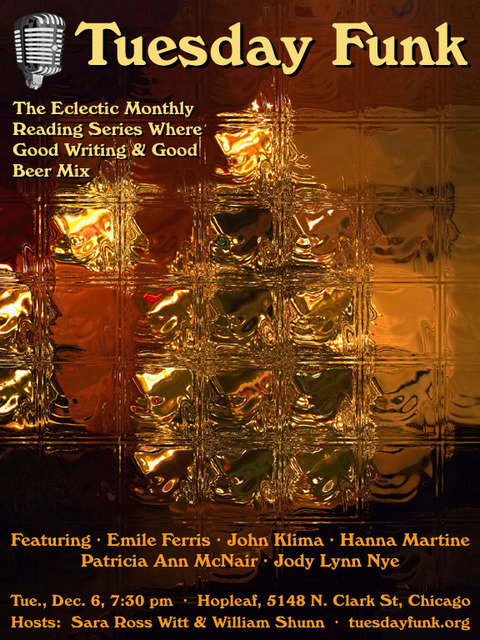 Don't freak out on us, but we're turning 40! That's right.
Tuesday Funk

,
the monthly Chicago reading series where good writing and good beer mix, is about to put on its
40th episode

,
and we'd like to invite you to celebrate with us. (We considered holding at episode 39 indefinitely, but in the end we decided that just wasn't dignified.)
In honor of the occasion, we'll have five terrific readers for you tonight, though we promised not to reveal which side of the over/under 40 divide they inhabit. And there's beer too—more varieties than we can count (owing to our advanced age). Please join us!
Our esteemed lineup tonight includes Jody Lynn Nye, Patricia Ann McNair, Hanna Martine, John Klima, and Emile Ferris. Plus, we'll throw in one of our patented Poems By Bill just for shits and giggles. So "like" us today on Facebook, arrive early, grab a beer from the bar, and get set for a evening of entertainment that will make you feel young again. Um, unless you're already young, in which case it will just make you feel tipsy.
Hopleaf is at 5148 N. Clark St. in Chicago. The reading begins at 7:30 pm in the upstairs lounge. The lounge opens at 7:00 pm. Arrive early for a seat!
As always, the upstairs lounge at Hopleaf is cash-only and 21 and over. Remember also that no food can be brought in from the restaurant.