Our next event will take place Tuesday, January 3, 2012, and will include readings from Stephen Markley, Lawrence Santoro, Holly McDowell, Christopher Sweet, and William Shunn.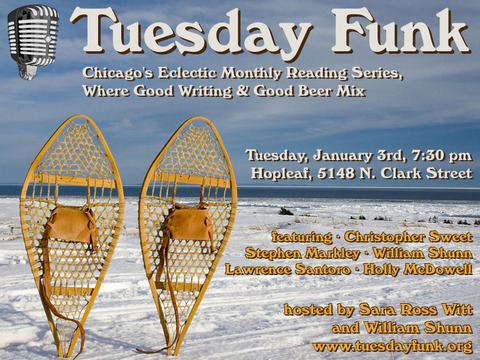 Strap on your snowshoes this January because Tuesday Funk is taking you on a wild winter trek. For our 41st episode you'll join us in tracking down the talents of Stephen Markley, Lawrence Santoro, Christopher Sweet, Holly McDowell, and William Shunn. And your reward? Dozens of varieties of cold beer in our warm, cozy environs, and an evening of prime entertainment.
The hunt gets underway Tuesday, January 3, 2012, 7:30 pm, in the upstairs lounge at Hopleaf, 5148 N. Clark St., Chicago. Arrive early, carve yourself out some space in the upper room, and grab a beer from John at the cash-only bar. We start seating at 7:00 pm and no earlier. Admission is always free, but you must be 21 or older. And come early or stay afterward for some great Belgian-style food downstairs.
Please bring plenty of friends, and become a fan of Tuesday Funk on Facebook so you never miss an invitation to our readings. Mush!