John Everson is the Bram Stoker Award-winning author of Covenant, as well as the novels Sacrifice, The 13th, Siren and The Pumpkin Man, all released in paperback from Dorchester/Leisure Books. His sixth novel, an erotic horror descent into dark desire centered around a mysterious adult club called NightWhere will be released by Samhain in the summer of 2012. He has had several short fiction collections issued by independent presses, including Creeptych, Deadly Nightlusts, Needles & Sins, Vigilantes of Love and Cage of Bones & Other Deadly Obsessions. Over the past 20 years, his short stories have appeared in more than 75 magazines and anthologies. His work has been translated into Polish, Italian, Turkish and French, and optioned for potential film production. He is also the founder and publisher of the independent press Dark Arts Books.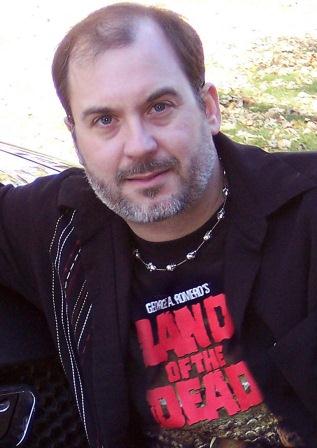 John shares a deep purple den in Naperville, Illinois with a cockatoo and cockatiel, a disparate collection of fake skulls, twisted skeletal fairies, Alan Clark illustrations and a large stuffed Eeyore. There's also a mounted Chinese fowling spider named Stoker courtesy of Charlee Jacob, an ever-growing shelf of custom mix CDs and an acoustic guitar that he can't really play but that his son Shaun likes to hear him beat on anyway. Sometimes his wife Geri is surprised to find him shuffling through more public areas of the house, but it's usually only to brew another cup of coffee. In order to avoid the onerous task of writing, he holds down a regular job at a medical association, records pop-rock songs in a hidden home studio, experiments with the insatiable culinary joys of the jalapeno, designs photo collage art book covers for a variety of small presses, loses hours in expanding an array of gardens and chases frequent excursions into the bizarre visual headspace of '70s euro-horror DVDs with a shot of Makers Mark and a tall glass of Newcastle.
Join Tuesday Funk on March 6 at 7:30 p.m. at Hopleaf's upstairs bar to hear John and the rest of our remarkable lineup read!