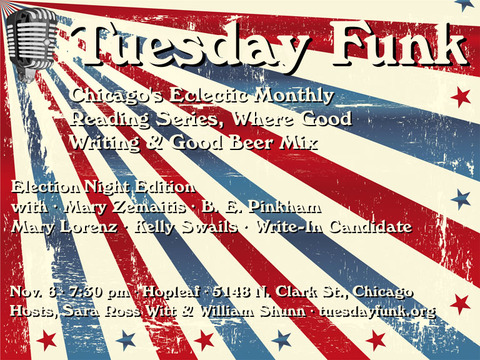 It's a real horse race tonight, and the stakes are huge! But no matter which team you're backing, you can take refuge from the stress of election returns tonight at
Hopleaf,
as your good friends from
Tuesday Funk
bring you our
51st big episode!
Our terrific Election Night Edition features a strong slate of candidates for literary excellence, including Mary Lorenz, B. E. Pinkham, Kelly Swails, and Mary Zemaitis, not to mention one of our patented Poems by Bill. And though we regret that Jac Jemc had to withdraw from tonight's race at the last minute, we'll also bring you a special write-in candidate with some strong medicine for what ails Washington, D.C.
So "like" us today on Facebook and get set to cast your ballot for "live lit" with hosts Sara Ross Witt and William Shunn. And remember to vote early and often—at the bar!
Hopleaf Bar is at 5148 N. Clark St. in Chicago. The reading begins at 7:30 pm in the upstairs lounge. The lounge opens at 7:00 pm. Arrive early if you want a seat.
As always, the upstairs lounge at Hopleaf is cash-only and 21 and over. Remember also that no food can be brought in from the restaurant.