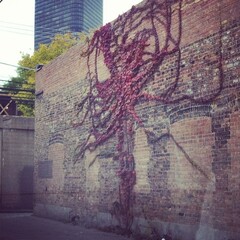 If you were at Tuesday Funk this week, then you know something very special happened. And we're not just talking about that extra closeness you experienced with your neighbors in the jam-packed upstairs lounge at Hopleaf. We're talking about what happened behind the microphone, and sister, was it something.
We started off strong out of the gate with Jodi Eichelberger's tale of being the lone audience member at a solo mime/dance performance in London. Maggie Kast followed that will a powerful novel excerpt about a young Chicago activist arriving in Alabama for the infamous Scottsboro trials of 1931. And Stephen Markley's brought the house down with his gonzo, hallucinogen-assisted reportage from the Republican debate that dashed Rick Perry's presidential hopes.
After a break for beer, co-host William Shunn busted out this month's Poem by Bill, "Like Writing a Bicycle." Then we rounded out the evening with two remarkable selections from the new 2nd Story anthology Briefly Knocked Unconscious by a Low-Flying Duck. There was not a dry eye in the house as co-editor Andrew Reilly wrapped up his story of a vacation romance in India, and every knuckle in the place was white while Julia Borcherts explained what brought her and her infant daughter to the scene of a gruesome late-night murder in 1981.
Funk #52 was truly the Funk by which all future Funks will be judged.
But if you weren't there, don't despair. We'll be bringing you video clips from the evening over the days to come, after which we'll be back January 1st, New Year's Day, with a great lineup featuring Julie Ganey, Sondra Morin, Christopher Sweet, William Shunn, and more. Don't miss it!