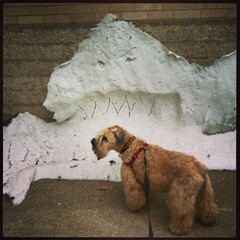 It was a small but hardy crowd that braved the roaring snow to make it out to this week's edition of Tuesday Funk. The thirty-odd folks in attendance were treated to a strong program featuring some returning readers, some first-timers, a whole lot of laughs, and maybe a sniffle or two. (Hey, it's cold out, okay?)
We kicked off the festivities with Dana Norris, who brought us a painfully funny reminiscence of her quest to lose her fear of hell. Mairead Case followed that up with a tantalizing excerpt from her novel-in-progress about teenagers in a small midwestern town. And Zoe Zolbrod took us through the Thai countryside on a quest for sex and opium in her essay "Pai Foot," from The Beautiful Anthology.
After a break for beer, our Poem by Bill was "Time Is Not on My Side." Bill followed that up (subbing in for a travel-stranded Lania Knight) with a chapter from his recently completed young-adult science fiction novel, Root, which is set right here in Tuesday Funk's very own Chicago neighborhood. (Or is it?) And CP Chang brought the scripted portion of the show to a lovely, contemplative close with his meditation on race and belonging, "Tribes," from the 2nd Story anthology Briefly Knocked Unconscious by a Low-Flying Duck.
It was then that we bid a fond and slightly choked-up farewell to our departing co-host Sara Ross Witt, who will now be focusing more on her own writing (and who will next be appearing on our program as a reader on May 7th!). Thanks for all the great work, Sara, and we look forward to what you'll produce in the months to come.
All in all, it was a program that seemed to delight our (unusually polite) audience, but if you couldn't be there don't despair. We'll bring you plenty of video excerpts in the weeks to come, and then we'll be back Tuesday, April 2, 2013, with a program featuring Mary Robinette Kowal, Jeremy Jasper, Wesley Chu, Reagan Keeter, and Tuesday Funk co-founder Reinhardt Suarez, not to mention the debut appearance of our new co-host, Gapers Block's Andrew Huff. Don't miss it!
And like Bill exhorted us Tuesday night, don't procrastinate.