In 2001, Lawrence Santoro's novella "God Screamed and Screamed, Then I Ate Him" was nominated for a Bram Stoker Award by the Horror Writers Association. In 2002, his adaptation and audio production of Gene Wolfe's "The Tree Is My Hat," was also Stoker nominated.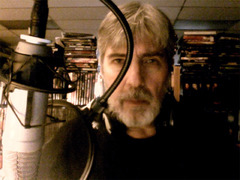 In 2003, his Stoker-recommended "Catching" received Honorable Mention in Ellen Datlow's seventeenth annual
Year's Best Fantasy & Horror
anthology. In 2004, "So Many Tiny Mouths" was cited in the anthology's
eighteenth edition
. In the
the twentieth
, his novella "At Angels Sixteen," from the anthology
A Dark and Deadly Valley,
was similarly honored.
Larry's first novel, Just North of Nowhere, was published in 2007. A collection of his short fiction, Drink for the Thirst to Come, was published in December 2011. Before all that, Larry spent thirty years as a director, producer and actor in theater and television.
Since its inaugural show in January, 2012, Larry has been the host of the weekly horror podcast, Tales to Terrify, the sister show to the Hugo Award-winning StarShipSofa.
He lives in Chicago and is at work on two new novels, Griffon and the Sky Warriors and A Mississippi Traveler, or Sam Clemens Tries the Water. Stop by his blog, At Home in Bluffton.
Please join Larry and all our outstanding readers on Tuesday, June 4th, 2013, upstairs at Hopleaf at 7:30 pm. This 21-and-older event is free.