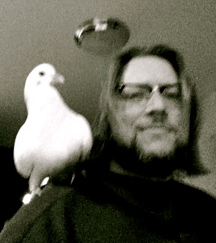 Bill Breedlove
is the author of the collection
How to Die Well,
as well as the Bram Stoker Award-nominated editor of the anthologies
Candy in the Dumpster, Waiting for October, Like a Chinese Tattoo, Mighty Unclean, When the Night Comes Down,
and
Swallowed by the Cracks
(with
John Everson
).
His work has also appeared in publications such as Chicago Tribune, InSider, The Fortune News, Restaurants & Institutions, Bluefood.cc, The Black Glove, Encyclopedia of Actuarial Science, and Playboy Online.
His stories can also be found in the books Tales of Forbidden Passion, Strange Creatures, Tails from the Pet Shop, Book of Dead Things, Cthulhu and the Coeds, and Blood and Donuts. He lives near Chicago. His website is www.curiousstories.com.
Please join Bill and all our outstanding readers on Tuesday, July 2nd, 2013, upstairs at Hopleaf at 7:30 pm. This 21-and-older event is free.