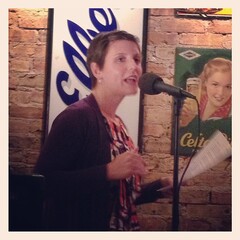 It was a packed house for this week's edition of Tuesday Funk at Hopleaf. If you weren't able to be there, here's what our terrific, attentive audience saw.
We kicked things off with Dmitry Samarov, who walked us through his travails the night the Blackhawks won the Stanley Cup. Steven H Silver then took us back to Sodom and Gomorrah for an adventure narrated by a decidedly undiabolical demon. Co-host Andrew Huff followed up his monthly haiku with a charmingly dirty tongue-twister he attempted to teach to the crowd. And Maggie Jenkins hilariously replayed for us her summer selling children's study guides door-to-door.
After a break for beer and a Poem by Bill called "Beware of Dog," novelist Jac Jemc read us an evocative story of small-town girls sliding slowly into juvenile delinquency. And finally, epic fantasy writer Bradley P. Beaulieu transported us to Imperial Japan for a tale of funeral rites and surprising intrigue.
All in all, it was an delightful night, but if you couldn't be there, don't despair. We'll bring you plenty of video excerpts in the weeks to come, and then we'll be back on Tuesday, September 3, 2013, with a program featuring Aleksandar Hemon, William Shunn, Virginia Konchan, Lania Knight, and Norman Doucet. Don't miss it!