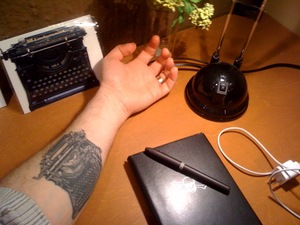 William Shunn has served as co-producer and co-host of Tuesday Funk since our 27th episode in October 2010. He devised our current five-reader format, introduced such popular recurring features as our Poem by Bill, and designed and programmed our website. He also blogs and occasionally podcasts at www.shunn.net.
An acclaimed writer of short fiction, Bill has been shortlisted for the highest awards in science fiction, including the Hugo, the Nebula, and the Theodore Sturgeon Memorial Award. In June he moved with his wife and dog to New York City, where he's turned his attention to a series of linked stories drawn from his experiences as a Mormon missionary in the late 1980's. He has returned to Chicago every month since moving to keep hosting Tuesday Funk, but will hang up his hat at last after next week's show. Does a Tuesday Funk East lurk somewhere around the corner? Only time will tell.
Please join Bill—for the last time!—and all our celebrated readers on Tuesday, December 3rd, 2013, upstairs at Hopleaf at 7:30 pm. This 21-and-older event is free.