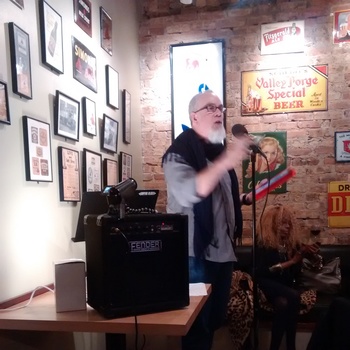 Ah... remember when we were all rosy-cheeked from voting, that glorious window between filling in those arrows and finding out that everything had gone horribly wrong? Remember how we all went to Tuesday Funk #75 together and had a glorious time listening to amazing readers?
Let's always remember it this way. The good times. Let them roll.
Melinda McIntire jerked our funny bones as well as our fear-flexes with a story of near-pregnancy, of love lost and sanity gained. Tom Haley followed with a dryly funny story of car-smashed cats and sentient grape tomatoes. And former co-host William Shunn made us all nostalgic with one of his signature poems... and an excerpt of a cool-as-hell sci-fi story involving nanotech, brain feeds, and hip New York parties.
We paused for a message from our local booze-peddler, Mark.
In the second half, Keesha Beckford delivered a heartfelt and sobering plea for the safety of black boys, asking for compassion and action from white moms. And Maggie Jenkins delivered an inspirational and heartbreaking story about trying to achieve one's goals... and falling just short.
So when you look at the election results, just remember what a swell time we all had that night. And come have another swell time with us on December 2nd, when we'll be featuring Jac Jemc, Jonathan Eig, Karen Genelly, James Gordon, and Carly Oishi!