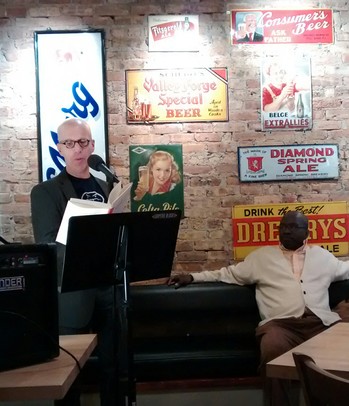 December feels like a month of Mondays. EXCEPT when it's Tuesday Funk! Hoo-wee! Then it feels, ah, funky? Anyway.
We started out the evening with a Tuesday Funk newbie, Clayton Smith, and he killed it with an excerpt from his novel involving adventure, peril, and imaginary friends. Next up was Jac Jemc, reading a lyrical, surprising story about sisters and murder from her new collection, A Different Bed Every Time. Co-host Eden Robins read an essay about a complicated relationship with her grandmother. And Karen Genelly closed out the half with fascinating tales from her time as a sex educator in Chicago Public Schools.
Mark educated us about beers, or rather, he filled our glasses for us. Not that he doesn't know about beer... the man knows about beer.
Co-host Andrew Huff read his topical haiku - skewering Thanksgiving and Bill Cosby in one fell swoop. G.P.A. (Greatest Poet Alive) blasted off in the second half with an equally cringe-worthy and heartwarming story about romantic rejection, and Jonathan Eig drove it home with a fascinating excerpt from his new book The Birth of the Pill. Yes, that pill.
It was a funky night indeed. A great end to 2014. Help us ring in 2015 with readings by Kelly Swails, John Rich, James Kennedy, Erin Shea Smith, and Christopher Sweet on January 6th!