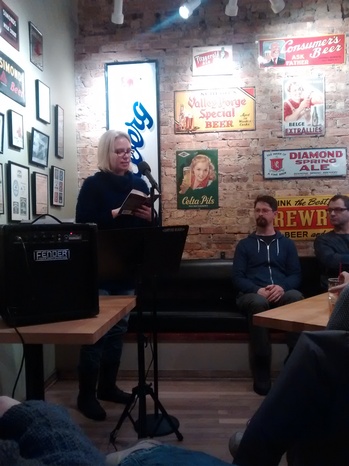 With only our collective body heat (and the Hopleaf HVAC system) to warm us, we embarked on a wintry evening of literary delights at Tuesday Funk #77!
Kelly Swails left us wanting more with a tense story about trying to undue the tragedies of the past with that mercurial tool - time travel. John Rich followed that up with a fascinating essay about the nature of happiness... and Lauren Bacall. Co-host Andrew Huff read a conceptual series of related haiku - about memory and the nature of existence. And James Kennedy finished up the half with an excerpt from his new novel about a boy who controls tornadoes.
Mark showed us his talents with bottle and glass at intermission, and we drank his masterpieces.
Co-host Eden Robins read a personal essay about the mystery of what happened to her childhood cat, and then Christopher Sweet kicked off the second half with an essay about the many flavors of anxiety, from childhood to adulthood. And Erin Shea ended the night with a bittersweet essay about shoplifting, lying, and motherhood.
Almost before it had begun, the evening was over. But don't worry! As ever, we will be back again next month with Tuesday Funk #78! Come see Alan DeNiro, Cameron McGill, Patty Templeton, Christa Desir, and H.Melt on Tuesday, February 3. Same time, same place!