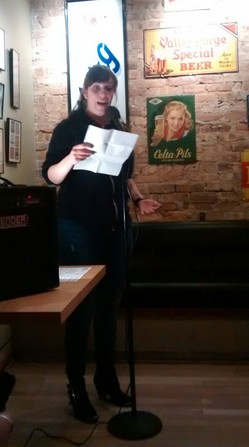 What a night! It was our first evening with Jason - bartender extraordinaire nouveau - as well as our standard amazing lineup of readers!
Carly Oishi
started things off right with a crazy, hilarious story about how Steve Harvey dubbed her "Illinois' Worst Dater." Co-host
Eden Robins
jumped in to read a microessay about her childhood cat being sent to live on a "farm," and
Jen Masengarb
followed with a series of lovely haiku about the CTA and Chicago winters. And
Tom Haley
finished the half with a story about a man who wakes up one day to discover that he is a dentist.
Jason handed us drinks with aplomb, and we drank them.
Co-host Andrew Huff then read a story about the very first home he ever lived in as an adult and the crazy shenanigans he got up to there, and finally Coya Paz told us about the wildness of being a mother... and the question of whether or not to do more mothering.
It was a wild night all around, and we'll be doing it again on Tuesday, November 3rd for Tuesday Funk #87! With readings from Sarah Hollenbeck, Nick Disabato, Kyle Thiessen, Elaine Hegwood Bowen, and former co-host William Shunn!