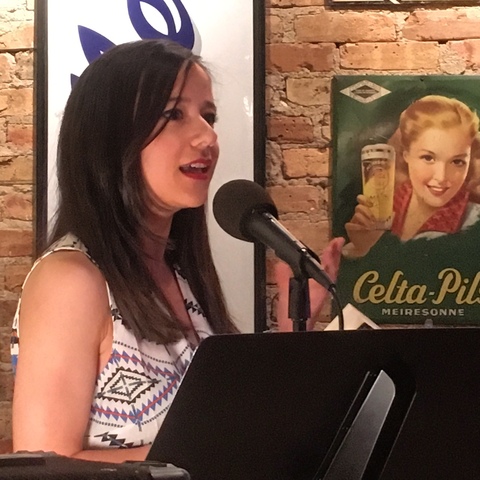 June's edition of Tuesday Funk was a lively one. Cohost
Eden Robins
led us off with a bit of Ke$ha fan fiction, followed by post-apocalyptic poetry by
Sara Krueger
. Cohost Andrew Huff read some topical haiku before handing the mic over to
Parker Molloy
, who read an essay about the challenges facing transgender teens and how much they outweigh the fantasies of restroom menace imagined by conservative congressmen.
Then we took a break to let Sal refresh our drinks and discuss what we've heard.
Rana Khoury kept the more serious mood going with an excerpt from her book As Ohio Goes: Life in the Post-Recession Nation, describing the decline of manufacturing in the Buckeye State. Norman Doucet closed us out with a personal essay on how Americans have allowed politics to divide us.
We'll be back on Tuesday, July 5 -- yep, the day after Independence Day -- with guests Leland Cheuk, Hannah Gamble, Scott Smith and the cohosts of monthly reading series Serving the Sentence, Maggie Jenkins and Kendra Stevens. Come celebrate freedom with us!