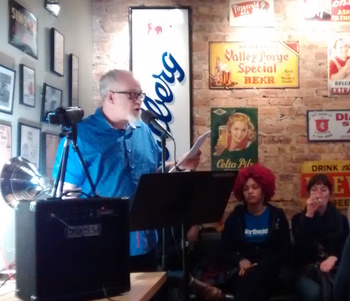 Wow, what an unbelievable turnout for our 100th birthday! The World Series Champion Chicago Cubs (still love saying that) would be green with envy. To celebrate this auspicious occasion, we asked all five former co-hosts to return to the stage and delight us with their wit and prose.
Connor Coyne
started off the evening with a history of Tuesday Funk and an excerpt from a book he described as Les Miserables in Flint, Michigan.
Hallie Paladino
followed with a funny, cringe-worthy, and heartfelt story of her adolescence in an East Coast prep school. Co-host Andrew Huff read his signature haiku (ripped from the headlines!), and
Reinhardt Suarez
read a series of short-shorts before serenading us with an original song seeking to understand who IS Alex Trebek?
We all returned our gaping maws to their proper position, and drank some beer, courtesy of Sal behind the bar.
Co-host Eden Robins read a micro-essay about the nature of truth, and then Sara Ross Witt charmed us in the second half with an excerpt from her YA novel about a young witch, and William Shunn finished off the night with an excerpt from his first published short story (from 25 years ago) that chilled us with its uncanny political prescience.
It was quite an event, and if you weren't there, you wish you were. And you can be! Join us on Tuesday, January 3 for another excellent show, featuring James Gordon (aka G.P.A.), Dmitry Samarov, Cameron McGill, Amy Sumpter, and Kelly Swails!