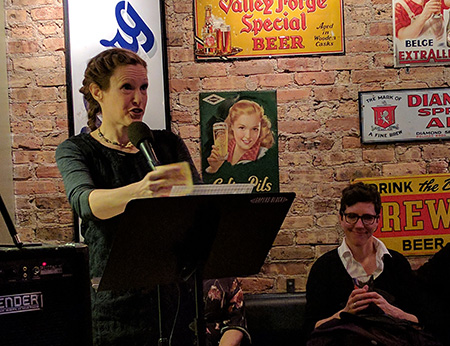 It didn't feel terribly much like February outside, but that didn't stop us from all getting cozy in the upstairs bar at Hopleaf for episode #102 of Tuesday Funk!
Jenn Sodini led us off with a funny-sad story about unexpectedly encountering refugees in Germany and Connecticut, then Leonard Zawadski read poetry. Cohost Andrew Huff followed up with a few seasonal haiku, then Keidra Chaney shared her theory that Morris Day and the Time are the true heroes of Purple Rain.
We took a break and Sal refilled everyone's glasses, and cohost Eden Robins welcomed us back with a micro-essay about the need for everyone to show up and participate in society. Next, Molia Dumbleton read a selection of short stories and poems. Lastly, Deborah Siegel described her tribulations and revelations in child-rearing.
We'll be back on Tuesday, March 7 for Episode #103, featuring readings by Lori Barrett, Steve Bellinger, Naomi Buck Palagi, Tori Szekeres and Ted McClelland. Hope to see you there!