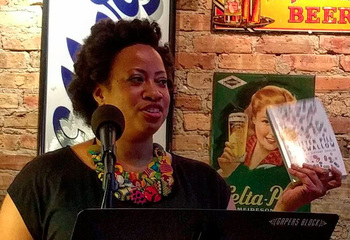 After taking a break for the Fourth of July holiday, coming back to the upstairs bar in Hopleaf for the 107th edition of Tuesday Funk was a refreshing pleasure.
Jonathan Winston Jones kicked things off with a second-person narrative that interwove memories with present-day feelings and events. Then Tiffany Gholar read a passage from her book A Bitter Pill to Swallow. Alicia Swiz brought us to the intermission with a story of coming to terms with a breakup, only to have him pop back up right as she was over him.
Everyone refreshed their drinks, then settled in to hear Edward Moses tell the story of how he fell in love with rap -- and then gave us a sample of his own lyrical style. Hannah Gamble closed out the evening with a selection of poems, including a couple that referenced a recently departed friend.
So there you go -- if you weren't there, you missed a good one. But fret not! Video will be up on our YouTube page soon. And we'll be back at Hopleaf on Tuesday, Sept. 5 with readings by Mary Winn Heider, Michael Fischer, Angel Simmons, Evan Stoner and Lily Be. See you there!