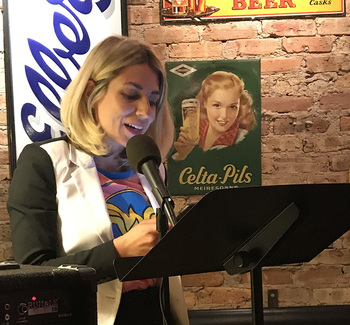 >January 2 was the coldest night for Tuesday Funk in
quite awhile
, but that didn't stop a full house from showing up for Chicago's favorite eclectic reading series. And they were rewarded with some fantastic live lit.
Marcus Emanuel led off with a true story about what might have been a selkie. Next, Emma Terhaar read a short essay about making croissants and a couple of poems. Then Cameron McGill knocked us back with a set of spellbinding poetry, and we took a break to reflect and refill our drinks.
When we returned, cohost Andrew Huff shared a couple of his trademark seasonal haiku, and then Emily Belden read an essay about reconsidering her policy on forgiveness. Lastly, Jac Jemc told a tale of a couple looking for new friends to double date with.
Join us in the upstairs lounge at Hopleaf on Tuesday, February 6 when we'll feature readings by Molly Rafferty, Rachel Hinton, Molly Dumbleton, Lindsay Porter and Dave Reidy. Hope to see you there!