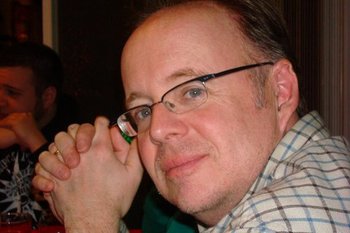 James Finn Garner
is the author of the
Politically Correct Bedtime Stories
trilogy, which will soon be published in the Czech Republic and Turkey. He recently launched the webcomic,
Single White Vigilante
, about a superhero hitting the lonely stretch of his mid-30s (it doesn't help that he drunk dials the villains he has put in jail). His latest project is the clown noir mystery series starring
Rex Koko, Private Clown
. These titles include
Honk Honk, My Darling
;
Double Indignity
; and
The Wet Nose of Danger
.
Please join James and our other amazing readers on Tuesday, May 1, 2018 in the upstairs bar at Hopleaf. Doors open at 7pm, and the show starts at 7:30. It's free, and 21-and-over. RSVP on Facebook.