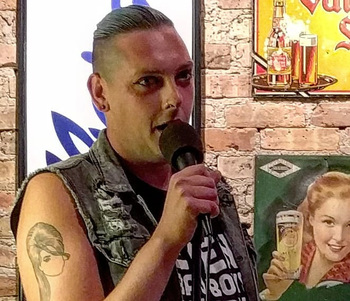 It was so lovely celebrating Tuesday Funk's 10th anniversary (observed) on Sept. 4. The upstairs lounge at
Hopleaf
was packed with live lit lovers, and the guests brought their A game. Plus, there were cookies!
Mare Swallow kicked everything off with a crushing story of a crush unrequited, then former cohost William Shunn shared poems from past Tuesday Funks and today. Juan Martinez closed out the first half with an excerpt from a novel in progress that left everyone wanting more.
We took a break to refill our glasses and eat some of those cookies, then cohost Andrew Huff read some of his topical haiku. JH Palmer read an essay about playing with gender roles as a child, and finally C. Russell Price delivered some powerful poetry.
If you missed the show, you've got two upcoming opportunities to make up for it. Tuesday Funk will be part of Lit Crawl Chicago on Saturday, September 22, at 5pm in our usual spot at Hopleaf with readings by Kimberly Dixon-Mays, Annabel Lang, Jan English Leary and Gina DeLuca. See Lit Crawl Chicago on Facebook for more info about other shows. And then we will be back to our usual schedule on Tuesday, October 2, with readings by Jenny Hatchadorian, Hannah Gamble, Dipika Mukherjee, Angel Simmons and Henri Harps. Hope to see you at one or both of those shows!