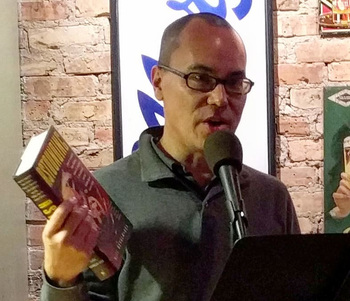 The weather turned more wintry on November 6, but Tuesday Funk remained cozy in its upstairs lounge at
Hopleaf
, ready to hear some great live lit.
Alec Nevala-Lee
got the evening started with a recently published essay on how Isaac Asimov's
Foundation
series mirrors current politics. Next,
Tom Haley
read a bit of dystopian sci-fi set in a future when we've given up the right to vote. Cohost Andrew Huff read a couple of his topical haiku, then
Lily Be
took us into the break with a story of how the selfish behavior of little boys turns into the entitlement of grown men.
Bartender Alex refilled our drinks, we talked about what we'd heard, and then settled back in for the second half. Cohost Eden Robins led it off with an essay about how the film The Witches of Eastwick is still relevant today, then Britt Julious told a harrowing story about her battle to overcome a debilitating health condition. Finally, Chelsea Fiddyment read — and sang — several experimental pieces to cap off the evening.
We'll be back for our last show of 2018 on Tuesday, Dec. 4, with readings by James Gordon, Dayna Bateman, Amar Taylor, Cesar Torres and Tuesday Funk founder Connor Coyne. You don't want to miss it!