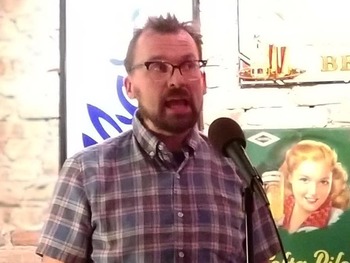 Well, March predictably came in like a lion, but Tuesday Funk fans withstood the miserable weather and came out for a great show on March 5, 2019.
Lindsay Eanet
warmed the upstairs lounge at Hopleaf up with an essay that brought together astrology, "American Ninja Warrior" and
The Hunger Games
, then
Lori Barrett
(filling in for the ill Tracy Harford-Porter) shared a story about getting used to living in a foreign country -- and the noises one's neighbors make. Next,
Robbie Q. Telfer
read poems that were at once funny and poignant.
We took a break to refill our drinks, after which cohost Andrew Huff shared a couple of topical haiku and introduced Faisal Mohyuddin, who read several poems of his own. Last but not least, Kelly Swails told a story about nearly falling off a cliff and being saved by a cool-headed friend.
Tuesday Funk returns on April 2, when we'll feature readings by Kenji Kuramitsu, Elizabeth Tamny, Stuti Sharma, Amar Taylor and Levi Todd. Hope to see you there!