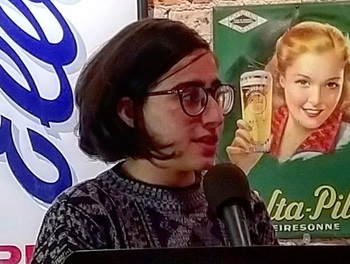 The April edition of Tuesday Funk was on election night, and we appreciate the folks who elected come out for some live lit! And as April is
National Poetry Month
, the show was loaded with poets.
Levi Todd got the show started with a collection of poems, followed by Elizabeth Tamny, who shared an essay about her love of Doris Day ahead of her 97th birthday. Stuti Sharma closed out the first half with a combination of poems and stand-up comedy.
We took a break to refill our drinks, and cohost Andrew Huff read a few topical haiku for election day. Next, Amar Taylor delivered some explosive poetry. Last but not least, Nestor "The Boss" Gomez shared a story about helping his mother fix a few things around the house -- with associated mischief.
If you missed it, don't worry. Tuesday Funk will be back in the upstairs lounge of Hopleaf on Tuesday, May 7, when we'll feature readings by Jenn Rourke Elizondo, Jocelyn Geboy, Tracy Harford-Porter, Megan Manley and Kathryn Kruse. Hope to see you there!