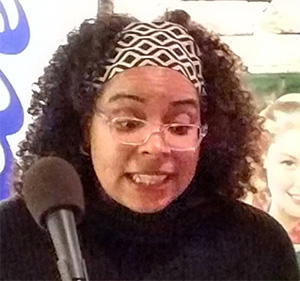 What a wonderful show we had on May 7! The crowd was standing room only in the upstairs bar at Hopleaf, and the stellar lineup had everyone rapt.
Kathryn Kruse
led us off with two sad-and-funny short pieces. Next,
Jenn Rourke
told a story about being a "bad Catholic" who ended up playing a nun in a high school musical.
Tracy Harford-Porter
took us into the intermission with a beguiling bit of sci-fi fantasy involving mermaids.
We refilled our drinks and talked about what we'd heard, and then Megan Maile Manley read a distressingly funny POV story about parking lot drama, and Jocelyn Geboy closed out the show with a series of lamentations about modern life in the city.
If you missed out, there's another opportunity to see Chicago's favorite eclectic reading series next month. On June 4, we'll feature readings by Bill Savage, Erin Watson, Mare Swallow, Elizabeth Gomez and James Finn Garner. Hope to see you there!