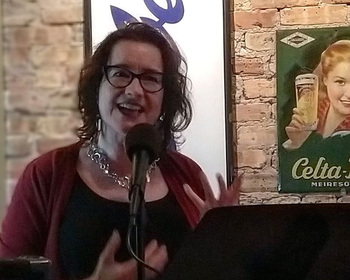 Some nights just feel right. June 4 was one of those nights, when everything just came together and your favorite eclectic monthly reading series simply hummed.
James Finn Garner set the mood with a snappy bit of clown-detective noir. Next, Mare Swallow told a story about wanting to be the bad girl for once, and its repercussions. Then Erin Watson read a collection of poems, including a few about baseball's dad.
Intermission arrived and we refilled our drinks, and cohost Andrew Huff read some of his topical haiku. Bill Savage roused the crowd with an impassioned recounting of how order came to Chicago's street names. And finally, Elizabeth Gomez shared an essay about how important self identity is, especially as it's being formed.
Yep, you missed a good one. But don't worry, Tuesday Funk will be back on Tuesday, July 2, with readings by Sahar Mustafah, Kenji Kuramitsu, Kalisha Buckhanon, Norman Doucet and Cameron McGill! Hope to see you there.