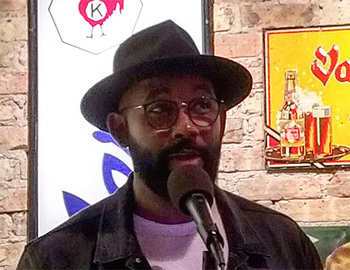 The day after Labor Day can be kind of subdued -- the summer is "over," school's back in session, and summer work hours are gone. But the crowd at your favorite eclectic monthly reading series was large and engaged.
The show started off with cohost Andrew Huff reading an excerpt of his novel in progress. Next, Tiffany Gholar shared pieces from her book, The Sum of its Parts: Artwork, 2014-2018. Then Tony Breed told a funny story about his first trip to Europe as a college student.
We took a break to refill our drinks, then Edward Moses read three short pieces about his life. And Kate Harding closed out the show with a thrilling tale of a neighborhood mayoral race -- for pets.
We'll admit it, it was all pretty great. You should see for yourself by coming to the next show! We'll be back at Hopleaf on Tuesday, Oct. 1, where we'll feature readings by Ann C. Logue, Scott Smith, F. Amanda Tugade, Sarah Steimer and Gint Aras. Hope to see you then!