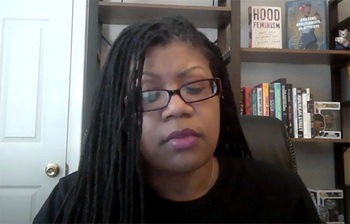 The second-ever "Quarantuesday Funk" on YouTube Live went very well, and featured some fantastic stories and essays.
Lily Be
got us started with a story about bearded dragons and honesty. Next,
Rosamund Lannin
shared an essay about the myths and realities of being a city kid, then
Stuart M. Ross
recited a poem called "The Smile of the Good Jewish Man."
After a brief break, Mikki Kendall shared an essay from her new book, Hood Feminism, and Daniel Kraus read an excerpt from his new novel, The Living Dead, co-authored with George A. Romero.
If you missed it live on July 7, that's OK — you can still watch it below or on our channel. And please join us for our next show — also on YouTube Live — on Tuesday, Aug. 4, when we'll feature readings by Tracy Harford-Porter, Norman Doucet, Jocelyn Geboy, Kyle Thiessen, and Erin Watson. Hope to see you in the chat!