Fraser Coffeen is one of the founding editors of and a regular contributor at
HeadKickLegend.com
. Dedicated to presenting the latest news and analysis on the world of kickboxing, Muay Thai, and Mixed Martial Arts, HeadKickLegend was recently named one of the top 20 worldwide MMA sites by MMAPayout.com.
Prior to his work with HKL,Fraser was a contributor at K-1Legend and Total MMA. In addition to covering kickboxing and mixed martial arts, Fraser has written a number of screenplays and radio plays with an emphasis on horror. Fraser has also worked in the weird underbelly of the Chicago arts scene as a member of the critically acclaimed and now deceased
Defiant Theatre
, where he honed his love for visceral, exciting entertainment. This love for the odd side of the road led him to create the two-person sideshow act
Numbskull, the Human Blockhead
in collaboration with Jennifer Ann Coffeen, which the pair has performed throughout the Midwest.
Today, Fraser also works as a theatrical blood effects artist. When not writing or doing blood work, Fraser has been a professional wrestling ring announcer, a comic book character for Alex Ross, studied clowning and physical theater, and worked with numerous Chicago theater companies.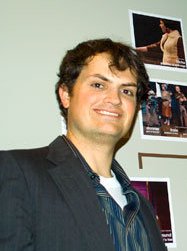 Join Tuesday Funk on December 7th at 7:30 p.m. at Hopleaf's upstairs bar to hear Fraser and all of our talented readers!