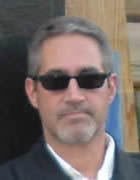 Jerry Schwartz is the author of Pixels of Young Mueller, a coming-of-age tale published in 2010 by All Things That Matter Press. Visit his website at itsjerryschwartz.com.
Schwartz also writes, plays, sings, and produces the music of The Jerrys, a British-influenced guitar-pop band. The Jerrys appear in Pixels of Young Mueller, Schwartz's debut novel. Check out The Jerrys at itsthejerrys.com.
Join Tuesday Funk at Hopleaf's upstairs bar to hear Jerry and our talented clutch of readers on February 1 at 7:30 p.m.