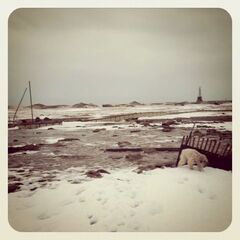 Snowmageddon? Snowpocalypse? 'Snow problem! Even a blizzard orchestrated by our enemies can't keep Tuesday Funk down! Don't take any unnecessary chances with this weather, but if you want to be one of The Few, The Proud, The Frozen, then strap on your showshoes and come out to Hopleaf tonight (Tuesday, February 1st) to join your hosts Sara Ross and William Shunn for the 31st entry in our theoretically infinite Tuesday Funk reading series!
With a bit of reconfiguring of the program thanks to the storm, we'll be bringing you poetry, fiction, essays, and more from the likes of Eden Robins, Jerry Schwartz, Karen Skalitzky, Brooke Wonders, and our own William Shunn. That's five great readers for the mere price of a beer. Mush!
(And fear not, Julie Rosenthal fans! We'll have her and any other reader unavoidably detained by the blizzard back to read for you at the earliest possible date.)
Hopleaf is at 5148 N. Clark St. in Chicago. The reading begins at 7:30 pm in the upstairs lounge. The lounge opens at 7:00 pm. Arrive early for a seat!
As always, the upstairs lounge at Hopleaf is cash-only, so be prepared. Remember also that no food is allowed in the upstairs lounge, and only those 21 and over can be admitted.