Our next event will take place on Tuesday, October 4, 2011, and will include readings from William Shunn, C.P. Chang, Erin J. Shea, Matt Darst, and Liz Baudler.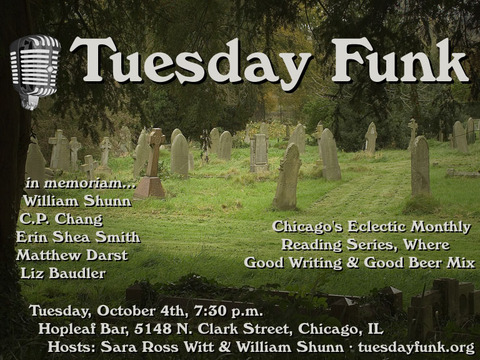 Um, should we really be in this graveyard after midnight? Did you hear something groan? What's that horde lurching out of the mist? My God, it's coming, it's
Tuesday Funk!
Quick, the only safe place to take cover is that upstairs bar on Clark Street!
Hurry!
We've laid in a strong cache of supplies, with readings from C.P. Chang, Erin J. Shea, Liz Baudler, zombie fiction by Matt Darst, and a sci-fi baseball story from your Co-Master of Cemeteries William Shunn. And what would an October apocalypse be without dozens of varieties of cold beer to tide you over?
Tuesday Funk convenes Tuesday, October 4, 2011, 7:30 pm, in the upstairs lounge at Hopleaf, 5148 N. Clark St., Chicago. Arrive early, stake out a table in the upper room, and grab a beer from John at the cash-only bar. We start seating at 7:00 pm and no earlier. Admission is always free, but you must be 21 or older. And come early or stay afterward for some great Belgian-style food downstairs.
Please bring plenty of friends, and become a fan of Tuesday Funk on Facebook so you never miss an invitation to our readings, which later this fall will feature the likes of John Klima, Hanna Martine, Matt Wood, Patricia Ann McNair, JD Adamski, and many more. You won't want to miss a single tasty morsel.
BRAAAAIIIIINNNNS.