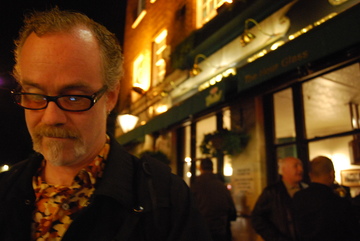 William Shunn is a co-producer and co-host of Tuesday Funk. He has worked as a cabinet maker, a custard slinger, a door-to-door missionary, a technical writer, a telephone surveyor, and as a computer programmer, most notably for WordPerfect Corporation and Sesame Street. In the early days of the web, he also helped produce live online concert broadcasts for artists like The Cure, The Allman Brothers Band, and Mötley Crüe.
Bill has published over two dozen works of short fiction, and served for three years as a national judge for the Scholastic Art & Writing Awards. He is the author of the Hugo, Nebula and Sturgeon Award-nominated novella Inclination, available as an audiobook from either Audible.com or iTunes. He is also co-author, with Derryl Murphy, of the short horror novel Cast a Cold Eye, available from PS Publishing. (It makes a terrific Halloween gift!) His most recent story is "Care and Feeding of Your Piano," which appears in the current issue of Electric Velocipede. He has recently completed a memoir, The Accidental Terrorist, and is hard at work on Endgame, a young-adult science fiction novel set mostly in Chicago.
For our October 4th event, Bill will reprise his popular sci-fi baseball monster story from last year, "The VIsitors at Wriggly Field." Please join us to hear him and all our other monstrously talented readers at 7:30 pm in Hopleaf's upstairs lounge.