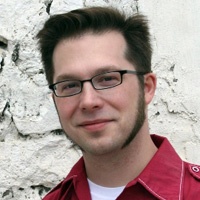 Andrew Huff is the editor and publisher of Gapers Block, a Chicago-centric news and events webzine he co-founded in 2003. A serial early adopter, Huff created his first webpage in 1996; launched his personal blog, me3dia.com, in 2001; and joined both flickr and Twitter in their infancy.
In addition to Gapers Block, he has also worked for several years as a professional blogger for corporate clients such as American Express, Kenneth Cole, A&E and Starwood Hotels, and is a sought-after consultant on content oriented web projects. He holds a journalism degree from The Ohio State University and a certificate in medical writing and editing from the University of Chicago, and spent 10 years in public relations, working primarily with clients in the healthcare and biotech industries. He has taught in the journalism departments at Loyola University Chicago and Columbia College, and is a frequent speaker at SXSW Interactive and other conferences. In 2009 he was named to the Crain's Chicago Business' 40 Under 40 list. He lives on the far North Side of Chicago with his wife and two cats.
Hear Andrew and the rest of our outstanding readers on Tuesday, January 1, 7:30 pm, in the upstairs lounge at Hopleaf.