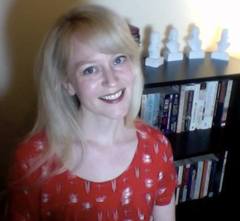 Holly McDowell
lived in Colorado, Georgia and South Carolina before discovering the magical city of Chicago. Now she can be spotted drinking glögg, searching for the world's best tapas bar, and writing in coffee shops all over the Windy City. Her current project is a digital series called
King Solomon's Wives,
a modern thriller about women alive today who descended from King Solomon's ancient harem. It's full of historical conspiracy and, well, harem sex. The series is interactive—meaning readers get to vote on the direction of the story.
The first
two episodes
are available now, and
episode three
comes out October 15th.
Please join Holly and the rest of our glittery readers on Tuesday, October 1st, 2013, for an unforgettable evening of Glitter & Mayhem! The needle drops upstairs at Hopleaf at 7:30 pm. This 21-and-older event is free.