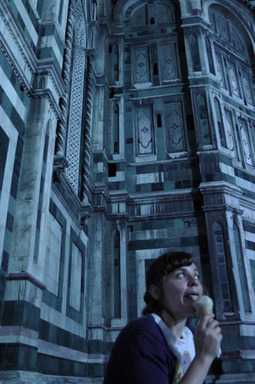 As announced at our
November 5th edition
, we'll have a new co-host soon joining the Tuesday Funk family. We're pleased to introduce
Eden Robins!
Eden is a great friend and supporter of Tuesday Funk who has read for us on at least three occasions in the past, including going above and beyond the call of duty on the night of our infamous February blizzard. She's had some short stories published in magazines that are now defunct, as well as magazines that are still up and running. She is the founding editor of the online semiprozine Brain Harvest, also defunct, and is currently writing her second novel, a weird Western. For money, Eden makes what are essentially Choose Your Own Adventure websites that teach people about health insurance, but she's spent most of her adult life trying to sell you dildos. Eden horrifies writers everywhere with her unabashed hatred of cats. She has a website, too.
"I think the top goal is to entertain," Eden says of her coming Tuesday Funk tenure. "There are a bazillion reading series in Chicago to choose from, and as much as I love stories and essays, one has to admit that it's not always the most compelling live show. I think the role of the hosts is to keep the audience entertained and coming back every month and to pick a variety of writing styles so that the readings stay fresh and interesting, and so there's more to the audience than a rotating group of cliques that come to see their friend and then leave."
Warming our hearts, she goes on to say, "I just love Tuesday Funk and I want to see it get even more awesome!"
Please join us at Hopleaf on January 7, 2014, when Eden makes her awesome debut as a co-host with Andrew Huff. And please come out to our next event on Tuesday, December 3, 2013, which features readings from G.P.A. (Greatest Poet Alive), Jocelyn Geboy, Davis Schneiderman, J. Michael Grey, and—in his final appearance as a Tuesday Funk co-host—William Shunn! You won't want to miss it!