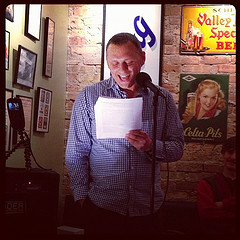 The folks lucky enough to have squeezed into the upstairs lounge at Hopleaf for our November 5th edition of Tuesday Funk know what a fantastic time was had by all. But if you weren't there, let us break down the awesomeness for you.
We kicked things off with Rosamund Lannin, who took us trick-or-treating in the Castro of San Francisco. John Rich then hauled us up to Michigan's Upper Peninsula to visit a local dive bar. Co-host Andrew Huff brought us topical haiku appropriate to the season. And returning reader J.H. Palmer spirited us to Texas for a guided tour of Lee Harvey Oswald's Dallas.
After a break for beer from Mark at the bar, co-host William Shunn brought us a new poem about trees and clapping or something. Next, Vojislav Pejović took us overseas to Belgrade for a look at a student and a nation rearranging themselves. And finally, Paul McComas and Greg Starrett donned costumes to unravel for us the mystery of Frankenstein's fine suit—a mystery we didn't even know needed solving!
Not only that, but we introduced you to our new co-host, who'll be taking over from Bill in January—the multi-talented Eden Robins. She proved her worth by rising to the challenge of introducing one of our more hard-to-pronounce guests like so:
That's what you missed out on, but never fear! We'll bring you plenty of video excerpts in the weeks to come, and then we'll be back on Tuesday, December 3rd, 2013, for an evening with G.P.A. (Greatest Poet Alive), Jocelyn Geboy, Davis Schneiderman, J. Michael Grey, and—in his final appearance as a Tuesday Funk co-host—William Shunn! Please don't dream of missing it!