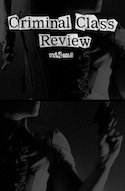 Join our friends From The Chicago Way series this Sunday, May 1st as tehy host a release party for Issue 4.1 of the fine literary journal Criminal Class Review,
www.criminalclasspress.com
, with short readings from local contributors Eric May, Patricia Ann McNair, Gary Johnson, Tomo Popp, Gint Aras, Gene Gregorits, and Jeff Kerr. They're featuring more Chicago crime -- both non-fiction and fiction.
They'll host an audience-interactive Q&A with author Jonathan Eig, whose bestselling book, "Get Capone," has just been released in paperback. And they'll round out the evening with a themed, interactive game, complete with prizes. No cover charge!
Find them in the back room at The Hidden Shamrock, 2723 N. Halstead Street. Doors open at 6:30 p.m. For more information and author bios, visit their website: www.chicagowayseries.com.