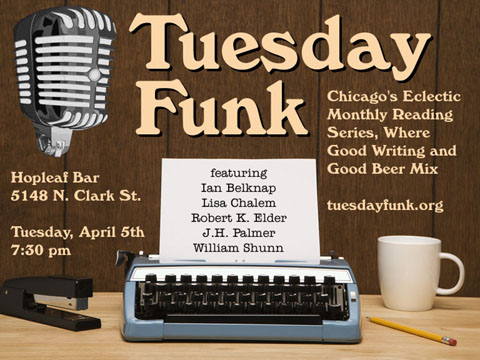 "Quiet on the set! Three ... two ... one ... and we're rolling."
Hello, Chicago, and welcome to another edition of Tuesday Funk, the monthly series where we bring you the writers we want to hear read live! Today is Tuesday, April 5th, and as always we'll be coming to you this evening from the upstairs lounge at Hopleaf in beautiful Andersonville, so come on down and join your hosts Sara Ross and William Shunn for this 33rd special episode of the Funk.
Our guests tonight will include Ian Belknap, Lisa Chalem, Robert K. Elder, J.H. Palmer, and Mr. Shunn himself. You won't want to miss it, so come be part of the excitement. It's absolutely free, though if you want to buy a beer or two, we sure won't stop you.
"Camera three, two-shot please, and hold. And ... cut to the important stuff."
Hopleaf is at 5148 N. Clark St. in Chicago. The reading begins at 7:30 pm in the upstairs lounge. The lounge opens at 7:00 pm. Arrive early for a seat!
As always, the upstairs lounge at Hopleaf is cash-only and 21 and over. Remember also that no food can be brought in from the restaurant.